Things change. And when they do, they work differently.
Central planners work very hard to stop the change – because all they understand is the past. And they flex the power of the law to defy reality.  
Take the challenge of ageing societies like Japan and Germany. They face a demographic decline – but they also have the resources to automatize.
About three-quarters of total global sales of industrial robotics machinery are concentrated in five countries: China, Japan, the United States, South Korea and Germany, with adoption concentrated in the automotive and electronics sectors, says Moody's Investors Service in their new report.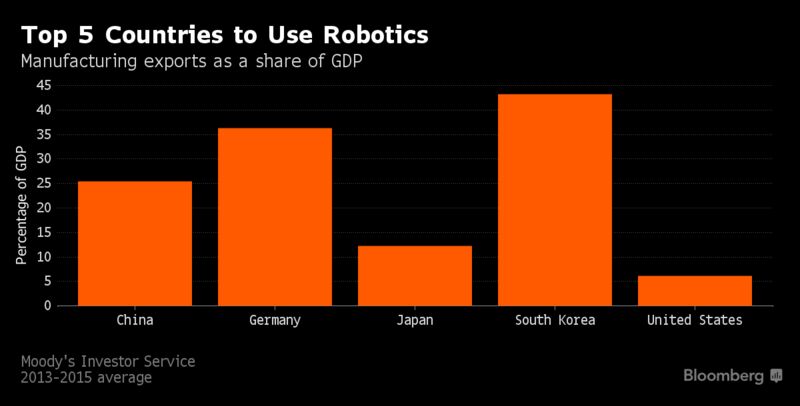 Japan and Germany may be sitting on a ticking demographic time bomb where aging populations begin to drag down economic growth. Good thing they're also prime candidates for robot revolutions.

Increased automation and more use of robotic technology in these manufacturing powerhouses could help cushion the impact, according to Moody's Investors Service.

Robots May Help Defuse Demographic Time Bomb in Japan, Germany, Bloomberg, June 2017
"At a time when some politicians are playing up concerns that globalization is killing domestic employment, robotics could lead to the return of some jobs that were outsourced to lower labor-cost destinations." In the end, Germany and Japan may end up adding more jobs at home, when processes return. But the number of jobs lost elsewhere will be much greater.
And this is where Hungary comes in.
The countries that build on cheap manufacturing workforce will lose more jobs than Germany and Japan may gain – warns the report.
Emerging market countries could be the losers. Countries like Hungary, the Czech Republic and Slovakia where exports of high-tech manufacturing goods account for more than 50 percent of GDP — 16 percent to 20 percent of which go to Germany alone — could be at risk.
Yet, our economic central planners are still pushing the idea of cheap eastern European labor to attract manufacturing jobs. So cheap, that even Chinese factories repatriate to Hungary these days. It all started with Orbán's fascination with low added value assembly lines, a simplistic view of the world, almost worthy of Marxism.
When the Orbán-government came to power in 2010, there was this morbid fascination with an economy based on manufacturing jobs and assembly lines. It was as if the government finally got a working understanding of the world – but of the 19th century.

Instead of factories, they imagined processing industry, with lots of assembly lines and low-skilled workers who earn just enough to sit on the sofa in the evenings and contentedly burp a little as they watch the government's success reports in the news.
Then came the wage squeeze, to solve the China-problem. The government enforced and forcefully advertised cheap Hungarian labor. But before you start blaming "capitalism" (whatever you call capitalism), please note that these suppressed wages have nothing to do with markets – and everything to do with the government's dubious efforts to become an economy based on low-added-value jobs for human monkeys. Central planning, in other words – based on fist-clinchingly simplistic views of the economy. Which, unfortunately, they are in position to enforce.
But low added value and factory work is as much a way forward as it is for the government to dictate the economy.
In the meantime, the leading cause for leaving the country is working poverty. That fabled cheap labor is leaving for places where they can not just work and sit on the sofa watching government TV, but also save for the future and educate their kids from their salary. (Hungarian education system has also been reduced to releasing manual laborers as soon as possible on the job market, closing down every possible channels of social mobility.)
Follow us on Facebook or subscribe to newsletter